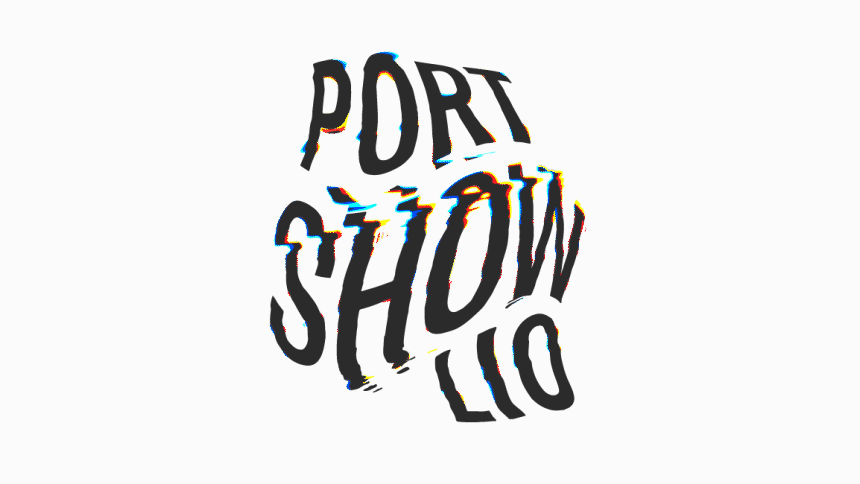 Portshowlio 2019
— Exhibition Identity, Creative Direction
ROLE
Branding
Creative Direction
Leadership
TOOLS
Illustrator
Indesign
Photoshop
COLLABORATORS
Kelly Shea
Judilee Haider
Dominic Heisdorf
Lexi Korobkin
Kathleen Hyslop
Wilfred Aldrich
Julia Marques
Mitchell Bell
Trevor King
Zach Lough
Hilary Painter
Jes Vachon

We began by having the full class of 2019 meeting to pitch and discuss thematic ideas for the show. Each year typically has a phrase or concept that drives the process. All agreed on "current" as a starting point, because we liked the simplicity of the word as well as the rich conceptual possibilities and wordplay that "current" implies. Various tones or meanings — electricity, water, now-ness, energy — could be drawn on to build a brand for Portshowlio 2019.
With the idea of "current", and the knowledge of the class of 2019 and the larger SCCA community, we asked members of the branding team to collect imagery that spoke to our those preliminary ideas around the show bring them together the following week.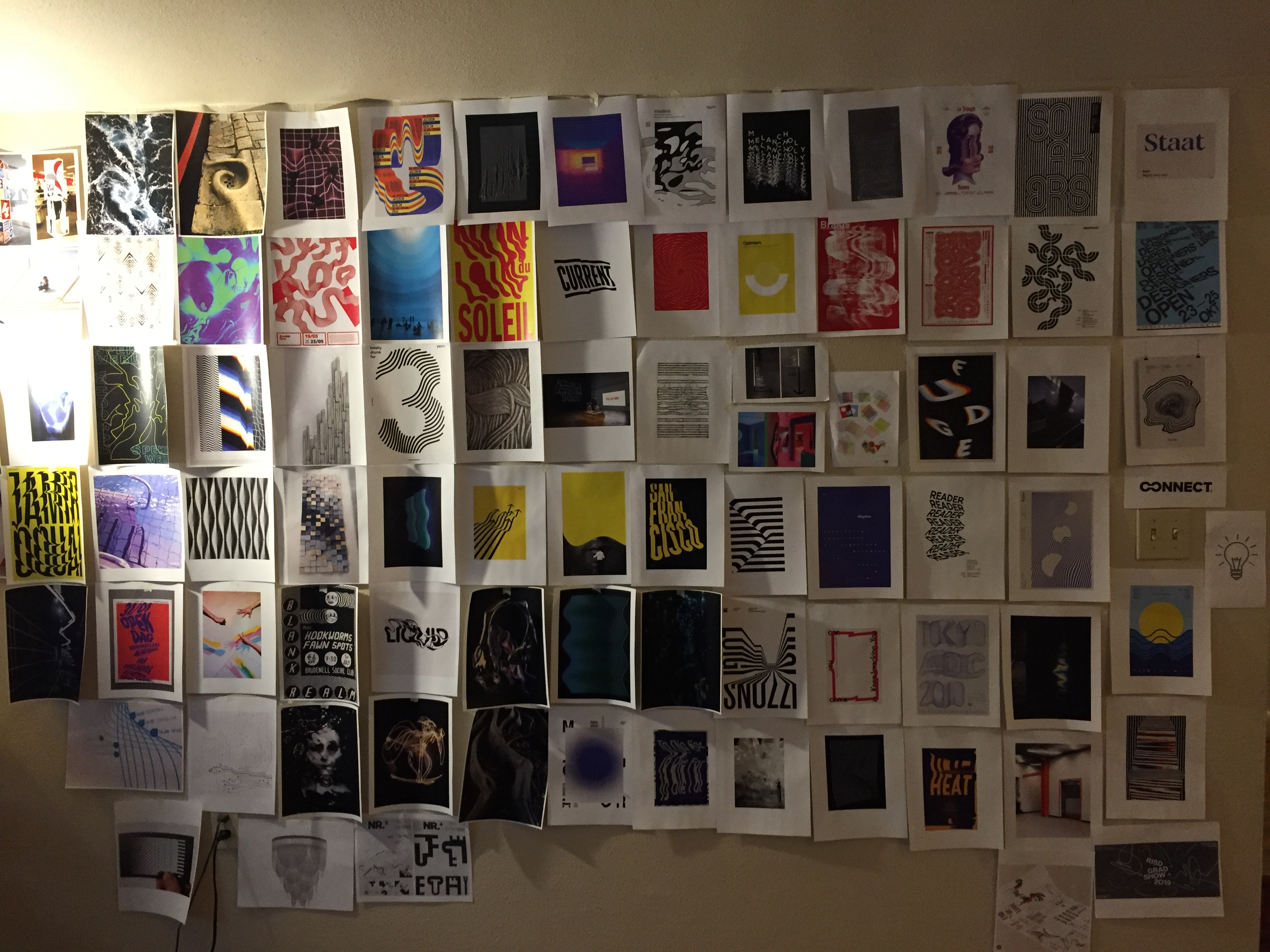 At that meeting we covered the walls of Kelly's apartment with our printouts and began to organize them based on content and tone. Then we narrowed down which images spoke to SCCA/class of 2019, as well as considering what would speak to our audience.
Each time we had a "yes" or a "no" to an image, we wrote down why — and starting defining the main traits of our client, and figuring out which aspects of "current" we would focus on in our show identity.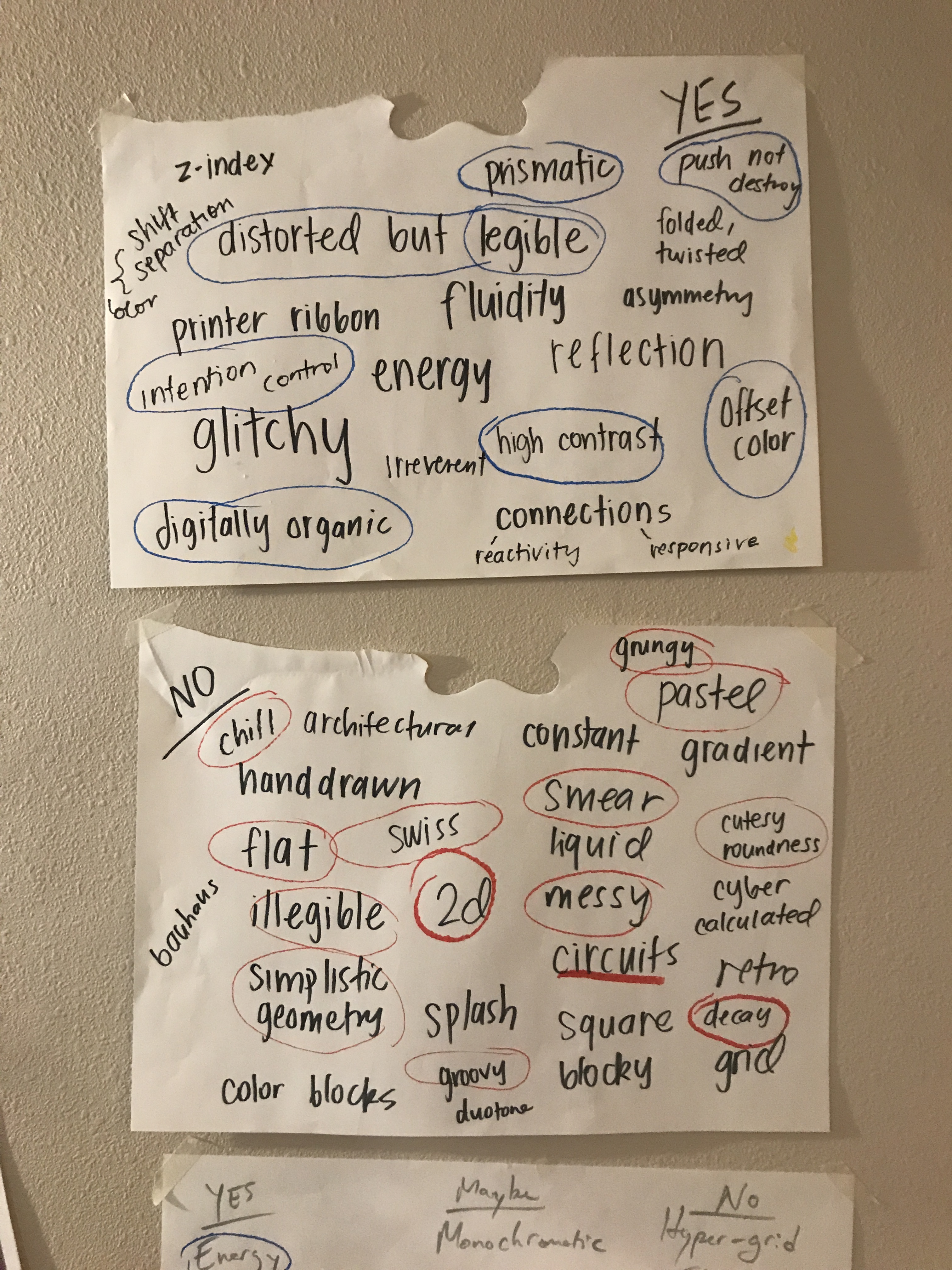 We took our word bank and preliminary moodboard images and built a triad of primary characteristics for the class of 2019, with supporting traits beneath them.
"Current" for us referred to energy, movement, and light. We liked the way this understanding combined with our tones to build a visual language.